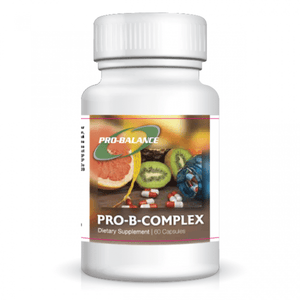 • Provides Baseline Nutrition for a Variety of Protocols
• Builds Metabolic Reserve and Protects Against Dietary Deficiencies
• Protects Against Stress-Induced Nutrient Depletion
• Supports Healthy Metabolism
A wide and complex variety of B vitamins is essential for the body to convert food into cellular energy. These water-soluble groups of vitamins are first absorbed in the small intestine and then travel to the liver where they are biotransformed into their active coenzyme forms. One of the key roles of B vitamins is to serve as prime coenzymes for the Kreb's cycle, the biochemical pathway responsible for maintaining energy production in the form of cellular energy. In addition, B vitamins, particularly folic acid, B6 and B12, are critical for proper methylation, a biochemical process that helps convert the problematic amino acid metabolite homocysteine into the amino acids methionine and cysteine. This process is vital for supporting cardiovascular and mental health, a healthy nervous system, regulating gene expression, proper energy metabolism, as well as immune and nerve cell function. Methylation occurs billions of times every second and helps the body to repair DNA on a continual basis. However, when methylation processes in the body slow down, an increase in the breakage of DNA strands can occur. In addition to maintaining DNA repair, methylation reactions help maintain optimal neurotransmitter production, homocysteine balance for cardiovascular health, recycle molecules that are required for detoxification and support a healthy inflammatory response. Proper methylation can be inhibited by nutrient deficiencies including folate, B2, B6 and B12.