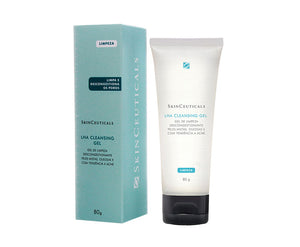 For facial cleansing, the Skin Cleansing Gel, SkinCeuticals' facial cleansing gel promotes a refreshing formula-exclusive effect ideal for waxy skin and acnes skin. The LHA Cleansing Gel SkinCeuticals combines potent actives that help in daily skin cleansing and skin care.
SkinCeuticals facial cleansing gel has numerous benefits:
- Removes excess oil, due to its action that decongests the pores; 
- Decreases the shiny appearance of oily skin; 
- Help in preventing the appearance of acne; 
- Cleanses and removes deep impurities SkinCeuticals' LHA Cleansing Gel has a combination of exfoliating agents. Its active ingredients are:
- 3.5% Glycolic Acid, which eliminates the accumulation of dead cells providing a refreshing deep cleansing facial. 
In addition, it softens the skin surface and improves the uniformity; 
- 0.2% Salicylic Acid, which helps to prevent the reappearance of acne; 
- 0.2% LHA, Salicylic acid derivative compound, which promotes oiliness control by gently exfoliating the skin, decongesting clogged pores and smoothing the surface of the skin.